Der aktuelle Rennverlauf
Die Teams sind unterwegs!
Hier könnt ihr den aktuellen Rennfortschritt und Standort der Teams sehen.
Regelmäßig aktualisiert von unserem verbündeten Dennis in Deutschland.
Was ist hier eigentlich los?
Die Rupee Rallye ist ein Spenden-Wettlauf:
Mit zwei Autorikschas fahren wir, das Herren- und das Damenteam, quer durch Indien. Gewonnen hat das Team, welches bei der Ankuft im Kinderheim in Jemo das meiste Geld gesammelt hat.
Die Reisekosten tragen wir selbstverständlich in vollem Umfang selber. Eure Spenden gehen ohne Abzüge an die Gandhi Kinderhilfe.
Ich versteh nur Bahnhof!
Macht nix! Also:
Im Februar 2012 sortieren sich sechs Freunde in zwei Autorikschas (auch bekannt als Tuk Tuk) und fahren von Alleppey in Südindien 2500 km weit bis nach Kalkutta. Dafür nehmen wir uns 4 Wochen Zeit.
In der Nähe von Kalkutta befindet sich das gemeinnützige Projekt der Gandhi Kinderhilfe, das unter anderem indischen Familien mit der Vergabe von Fahrradrikschas eine Einkommengrundlage schafft. Und das wollen wir mit euren Spendengeldern unterstützen!
Bis zum Abflug im Februar buhlen die Teams "Rita Rakete" und "Hans Dampf" hierzulande um die Gunst der Öffentlichkeit. Auf den unterschiedlichsten Wegen versuchen wir, so viel Geld wie möglich zusammen zu bekommen. Warum wir das machen? Weil das Projekt der Gandhi Kinderhilfe großartige Arbeit in Indien leistet – und aufgrund unseres persönlichen Kampfgeists im Team!
Die Rupee Rallye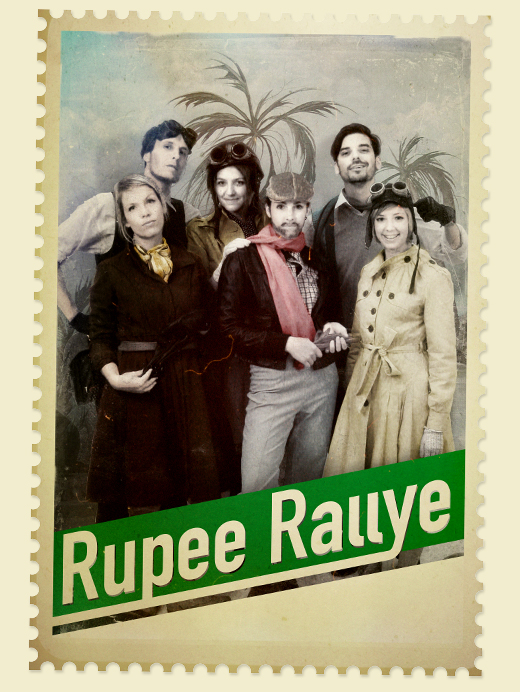 Unsere Vorbereitungen zur Rupee Rallye sowie alle weiteren Infos zur Gandhi Kinderhilfe findet ihr auf diesen Seiten! Bei Fragen schaut einfach in den FAQs vorbei oder schickt uns eine Mail!
Eure Rupees

What's going on here?
We ride through India in a motor-rickshaw and donate bicycle-rickshaws to Indian families.
Say that again, please!?
In February 2012 six friends will divide themselves into two teams – girls and boys – and drive the 2500 km from Alleppey in the south of India to Calcutta in the north-east in two motor-rickshaws (better known as Tuk Tuks).
Near Calcutta the charitable organization 'Gandhi Child Support' is located. That's where we want to finish our rally. The Gandhi Child Support founded many different help-projects, one of them is to build a foundation for existence by giving away bike-rickshaws to Indian families. With these rickshaws, the families can start their own small transportation businesses and secure an income. This is what we would like to support with the help of your donations!
The two teams 'Rita Rakete' (girls) and 'Hans Dampf' (boys) will compete for publicity before the departure flight in February 2012 and will try to raise as much money as possible by various means. Why we do that? Because the project, Gandhi Child Support, does a terrific job in India – and because of the personal competitiveness between the two teams.
These pages will tell you all about our preparations for the Rupee Rallye, as well as give further information about the Ghandi Child Support. If you have any questions, check out the FAQs and don't hesitate to send us an email.